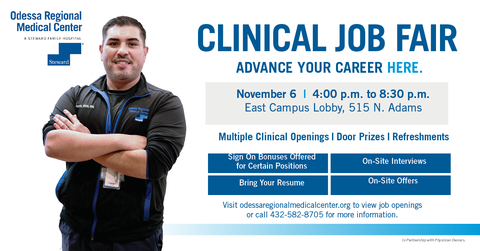 Clinical healthcare workers seeking new career opportunities are invited to attend Odessa Regional Medical Center's (ORMC) Job Fair on Wednesday, November 6th from 4:00 p.m. to 8:30 p.m. in the East Campus lobby (located at 515 N. Adams). Interviews and offers will be made on-site with the opportunity for sign on bonuses for certain positions.
ORMC is looking to fill multiple clinical positions including (but not limited to):
CCU RN, full-time (days)
Cath lab RN, full-time (days)
CT Tech, full-time (days)
OR RN, full-time (days)
Charge RN, full-time (nights)
Bring your resume and meet with clinical directors and hospital staff to learn about different career opportunities at ORMC. Door prizes and refreshments will also be available. For a full list of job openings, visit www.odessaregionalmedicalcenter.org or call 432-582-8705 for more information.