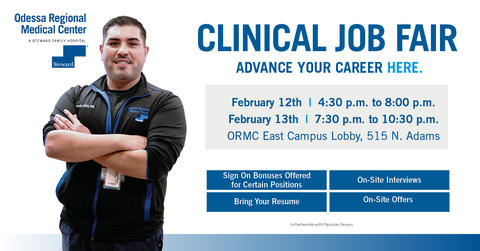 Clinical and healthcare workers seeking new career opportunities are invited to attend Odessa Regional Medical Center's (ORMC) job fair on Wednesday, February 12th from 4:30 p.m. to 8:00 p.m. and Thursday, February 13th from 7:30 a.m. to 10:30 a.m. in the East Campus lobby (located at 515 N. Adams). Interviews and offers will be made on-site.
ORMC is looking to fill multiple clinical positions including (but not limited to):
Radiology Director
Lab Services Director
ER Charge Nurse
L&D RN
MS/Tele RN
Cath Lab RN
Circulator for OR RN
Dietitian/NICU Dietitian
Surgical Tech
Radiology Director
MRI Lead Tech
Attendees will meet with clinical directors and hospital staff to learn about career opportunities at ORMC.  Door prizes and refreshments will also be available. For a full list of job openings, visit www.odessaregionalmedicalcenter.org/careers or call 432-582-8705 for more information.