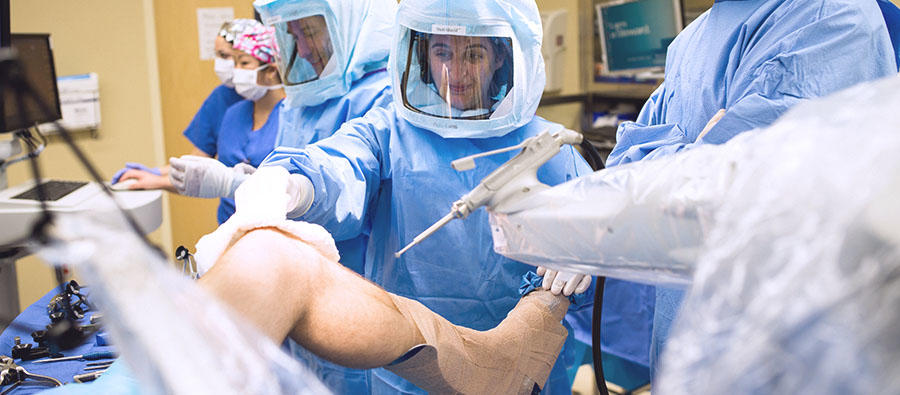 We offer a variety of orthopedic services—from advanced diagnostic imaging technology, to innovative surgical procedures and rehabilitation programs—to help you get back on track.
About Odessa Regional Medical Center Orthopedics
At Odessa Regional Medical Center, our orthopedic team is dedicated to getting you back to the things you enjoy most. Patients will have access to some of the finest orthopedic specialists and rehabilitation doctors who specialize in innovative treatment options for orthopedic injuries including:
Hip Replacement
Knee Replacement
Sports Injuries
Fractures
Spine Issues
Hand Injuries
Shoulder Surgery
Foot and Ankle
And More
These orthopedic procedures are performed skillfully at ORMC with state-of-the-art, minimally invasive techniques that allow our patients to enjoy fast recovery times and less pain during their rehabilitation.
Our highly skilled team of orthopedic surgeons, nurses, athletic trainers, and therapists work together to ensure every orthopedic patient receives individualized treatment plans and the highest quality of care available.
Also, physical therapy can be an important part of a patient's recovery after an orthopedic injury. Our orthopedic team works with every patient to ensure they receive the appropriate ongoing support in their rehabilitation. ORMC has its own Physical Therapy and Rehabilitation Program located within our campus.
Sports Medicine Services & Free Clinic
From Andrews to Presidio and Pecos to Stanton, Odessa Regional Medical Center supports Sports Medicine services throughout the entire region. Whether you sustain a knee injury in recreational softball or aggravate a shoulder injury while playing tennis, you can access the same network of sports medicine providers and orthopedic surgeons that care for area sports teams, college and universities, and regional high schools.
ORMC provides a free Sports Medicine Clinic. Geared for student and professional athletes, the clinic is staffed by our orthopedic surgeons and an athletic trainer to help assess and treat sports injuries more quickly so athletes can get back on the field!
For more information about the ORMC Sports Medicine Clinic, contact 432-582-8078.