COVID-19 Vaccination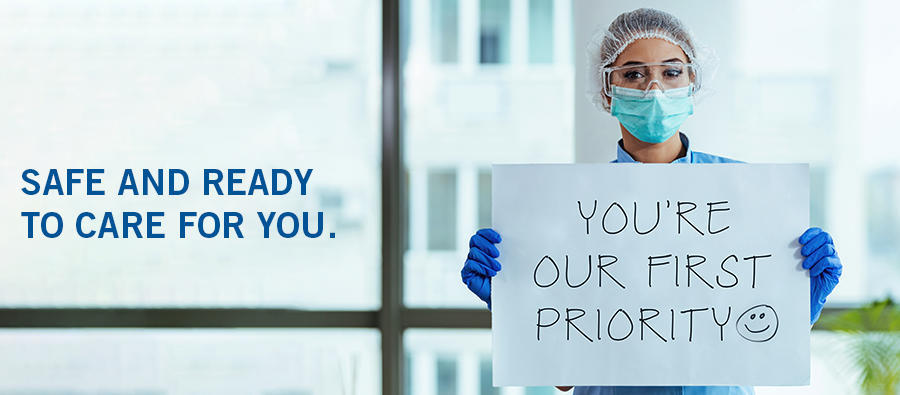 COVID-19 VACCINE STATUS: 1st doses AVAILABLE
Who is eligible to receive the vaccine?
Phase 1A: Front-line healthcare workers and residents at long-term care facilities
Phase 1B: 1b: Frontline essential workers and People age 75 years and older
Phase 1C: People aged 65 through 74 years and People aged 16 through 64 years with underlying medical conditions and Other essential workers
Effective March 29, 2021,the COVID-19 Vaccination will open to All Adults in Texas.
While we are still prioritizing Phase 1A and Phase 1B, we will not turn anyone away that is eligible to receive the vaccine. Please note the age requirement for the Pfizer vaccine is 16 and up, and for the Moderna vaccine is 18 and up.
What is the cost for the Vaccine?
The vaccine is free of charge for while supplies last. Please check vaccine availability before coming to the hospital Community Health Center, located at the top of this webpage. Please discuss any concerns of receiving the vaccine with your Primary Care Doctor before coming to us. For questions, please call the COVID Line at 432-582-8549.
Where to get the vaccine
ORMC Community Health Center (located on the corner of 5th & Muskingum)
1st dose vaccines - AVAILABLE. Vaccines offered by walk-ins while supplies last.
Where to get 2nd Dose
Odessa Regional Medical Center will administer 2nd doses of the vaccine for individuals that received their 1st dose at Ratliff Stadium. 
The ORMC Community Health Center is open Monday-Friday from 8:00 am to 6:30 pm. Those due for their 2nd dose should receive an email from "SVC COVID Tracker App" with an appointment for their 2nd dose. If this time slot does not work, individuals are welcome to walk-in to receive their 2nd dose during the hours listed above if it has been 17 days since the 1st dose was received.
What if I am due for my 2nd dose but have not received an email with my scheduled appointment?
If you received your 1st dose at Ratliff Stadium and have not received an email with your scheduled appointment

Step one: Check your junk and spam folder for an email from a "[email protected]" email address
Step two: Email Deborah Chester at [email protected]g with the subject line "2nd Booster Appointment" and provide your name, DOB, and date/location of 1st dose.
What if I am past my window for my booster shot?
Even if it is past the time window listed on your vaccination card, it is still perfectly fine to receive your booster without having to start over. The CDC's updated guidance was revised to allow for second dose administration up to 6 weeks (42 days) after the 1st if it is not feasible to adhere to the recommended interval. CDC is not advocating for people to delay getting their second dose, but the data from clinical trials support this range.
About the Moderna Vaccine
The Moderna vaccine (mRNA-1273) was granted Emergency Use Authorization (EUA) by U.S. Food and Drug Administration's vaccine advisory committee on December 17, 2020. EUA allows for the use of medical countermeasures, including vaccines, during public health emergencies, such as the current COVID-19 pandemic. Under an EUA, FDA may allow the use of unapproved medical products, or unapproved uses of approved medical products in an emergency to diagnose, treat, or prevent serious or life-threatening diseases or conditions when certain statutory criteria have been met, including that there are no adequate, approved, and available alternatives.
Similar to the Pfizer vaccine, Moderna includes a 2-dose schedule taken approximately four weeks apart. The Moderna vaccines proved to be approximately 95% effective in preventing COVID-19 in its vaccine trial of 30,000 individuals in 89 different clinical sites covering 32 U.S. States. According to the CDC, Messenger RNA (mRNA) vaccines carry genetic material that teaches our cells how to make a harmless piece of "spike protein," which is found on the surface of the SARS-CoV-2 virus. These do not affect our DNA and cannot give the vaccine recipient COVID-19, though side reported side effects include fever, headache and muscle aches. Other mRNA vaccines have been studied for influenza, Zika, rabies, and cytomegalovirus (CMV).
Learn more about the Moderna vaccine on the CDC website.
About the Pfizer Vaccine
The FDA has authorized the emergency use of the Pfizer-BioNTech COVID-19 Vaccine to prevent COVID-19 in individuals 16 years of age and older under an Emergency Use Authorization (EUA). The Pfizer-BioNTech COVID-19 Vaccine will be given to you as an injection into the muscle.
The Pfizer-BioNTech COVID-19 Vaccine vaccination series is 2 doses given 3 weeks apart. If you receive one dose of the Pfizer-BioNTech COVID-19 Vaccine, you should receive a second dose of this same vaccine 3 weeks later to complete the vaccination series. Learn more about the Pfizer vaccine on the CDC website.