Odessa Regional Medical Center and Steward Medical Group Welcome Primary Care Specialist Vicky Bakhos Webb, MD
October 26 2018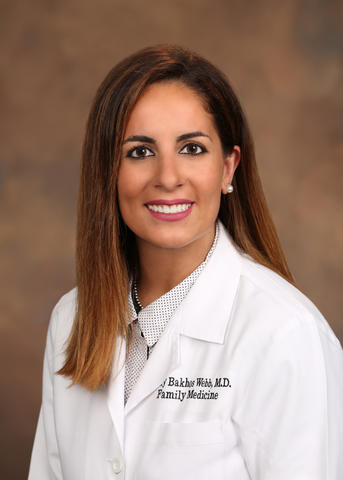 Odessa Regional Medical Center and Steward Medical Group are pleased to welcome Vicky Bakhos Webb, MD. The addition of Dr. Webb enhances access to care in the community for patients of Steward Health Care. Steward is one of the world's leading accountable care organizations that focuses on providing high-quality, affordable care at the right place, and at the right time, in a convenient, and close-to-home setting for patients.
Dr. Bakhos Webb provides a full spectrum of family medicine, including pediatrics, geriatrics, and women's health. She is a Workers' Comp provider and offers DOT physicals any many in-office procedures, such as joint injections, incision and drainage, skin biopsies, pulmonary function testing, EKG and X-rays. Dr. Bakhos Webb is fluent in French and Arabic. Dr. Bakhos Webb is accepting new patients at Complete Care Midland at 171 North Loop 250 West in Midland. Appointments may be scheduled by calling the practice at 432-522-5033.
"I am excited to join Steward Medical Group at Complete Care Midland and look forward to taking care of our community's residents and neighbors," said Dr. Bakhos Webb. "As a primary care doctor it is my goal to enable patients to live their highest quality of life and provide preventative care to help keep them well."
Dr. Bakhos Webb earned her medical degree at American University of Antigua College of Medicine, Antigua, West Indies, and Cum Laude.  She completed her residency in Odessa at Texas Tech University Health Science Center.  
"The addition of Dr. Bakhos Webb improves the ability of Steward Medical Group to provide important primary care in the community," said Sanjay Shetty, MD, MBA. "She plays a vital role in the well-being of our patients and has strong relationships with our circle of specialists to treat all medical conditions to help our patients live their best and healthiest lives."