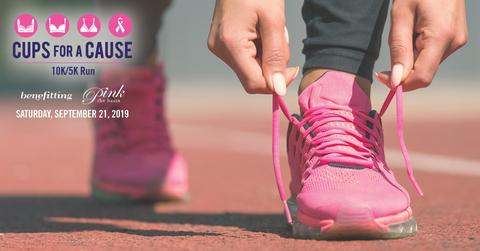 ODESSA – (Sept. 17, 2019) – Odessa Regional Medical Center and Pink the Basin will host the sixth annual Cups for a Cause 10k/5k on Saturday, Sept. 21 from 7:30 a.m. to 11:00 a.m. at Crossroads Church, located at 6901 Texas 191 Frontage Rd .
Each September, ORMC partners with Pink the Basin to host Cups for a Cause, a fundraiser that also helps to raise breast cancer awareness for women throughout the Permian Basin.
"ORMC's Cups for a Cause event has been one of our most valued and consistent partnerships," said Valerie Longoria, executive director for Pink the Basin. "This group organizes and coordinates all aspects of the annual run, and we are very blessed to have their support."
The event begins at Crossroads Church in Odessa and attracts more than 400 participants annually. All proceeds benefit Pink the Basin, a nonprofit organization that has served more than 1,500 women and raised over a million dollars to assist women who either cannot afford or do have insurance for a mammogram.
"Many of our fellow committee members, volunteers, and participants in the race are breast cancer survivors," said Madison Tate, director of marketing and community relations at Odessa Regional Medical Center. "Proceeds from Cups for a Cause will go directly to Pink the Basin so they can continue the very important work they do for the women in our community."
Registration starts at 7:30 a.m. at Crossroads Church followed by a short program at 8:30 a.m. Prior to the race, participants and their families will have the opportunity to enjoy activities including face painting, yoga, a silent auction, and performances from local high schools. Businesses will set up stations around the route to provide water and support to the runners.
Participants can register the day of the event or online at https://runsignup.com/Race/Events/TX/Odessa/CupsforACause5K10K. Race entries are $35 for the 5k and $50 for the 10k. Pets welcome, but must be on a leash or in a carrier. To obtain more information about this event, visit www.odessaregionalmedicalcenter.org or contact Madison Tate at 432-582-8399 or [email protected]