Robotic Surgery
Robotic surgery offers patients less pain and quicker recovery.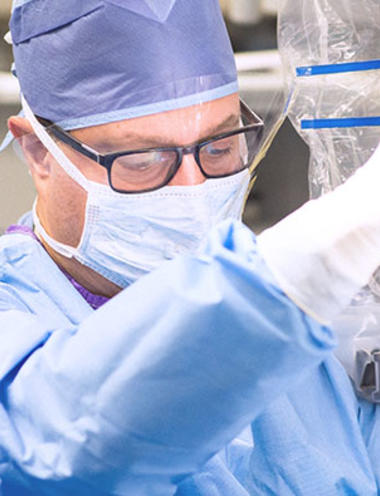 The Robotic Surgery Center at Odessa Regional Medical Center is home to some of the most sought-after physicians in West Texas performing the newest, most innovative techniques in surgery today. Our physicians not only learn and practice cutting edge medicine, but many are also involved in the development of new treatments through active clinical research.
Robotic surgery provides surgeons with an alternative to both traditional open surgery and conventional laparoscopy, putting a surgeon's hands at the controls of a robotic platform. Robotic surgery enables surgeons to perform even the most complex and delicate procedures through very small incisions with unmatched precision.
For the patient, benefits may include:
Smaller incisions – provide faster healing and little to no scarring
Shortened hospital stay, or even outpatient surgery
Minimal blood loss – less chance a blood transfusion will be needed during surgery
Less post-surgical pain – minimizes the length of time or need for pain medication
Faster healing time
Robotic Procedures at ORMC
Single entry site for gallbladder removal
Colon surgeries of the bowel
Hysterectomies and other gynecological procedures  
Hernia repair surgery
---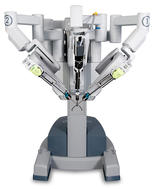 da Vinci® Xi™ Surgical System
As with all da Vinci Surgical Systems, the surgeon is 100% in control of the robotic-assisted da Vinci System, which translates his/her hand movements into smaller, more precise movements of tiny instruments inside the patient's body.
The Xi System's immersive 3D-HD vision system provides surgeons a highly magnified view, virtually extending their eyes and hands into the patient.
Key Features Include:
A new overhead instrument arm architecture designed to facilitate anatomical access from virtually any position
A new endoscope digital architecture that creates a simpler, more compact design with improved vision definition and clarity
An ability to attach the endoscope to any arm, providing flexibility for visualizing the surgical site
Smaller, thinner arms with newly designed joints that offer a greater range of motion than ever before
Longer instrument shafts designed to give surgeons greater operative reach
Less need for surgical assistance involvement 
Resources

In leading hospitals, the robotic era has begun. "With robotics, surgeons have an invaluable, minimally invasive tool that provides patients with several advantages over traditional surgery such as less postoperative discomfort, quicker recovery and less scarring," says Dwayne Badgett, MD.